House Air Sealing And Insulation Services
For Wisconsin Homeowners
Homeowners in Northern Wisconsin understand the value of a well-sealed and insulated home.
When a home is properly insulated it is comfortable all year round, runs more efficiently, and has a lower overall cost of operation. Ice dams, drafts, and water intrusion are eliminated and homeowners enjoy peace of mind knowing they don't have to worry about comfort or performance problems once winter rolls around. Homes stay warmer in winter, cooler in summer, and energy costs decrease while comfort levels increase.
Sound like a dream come true? It's possible with help from RVI.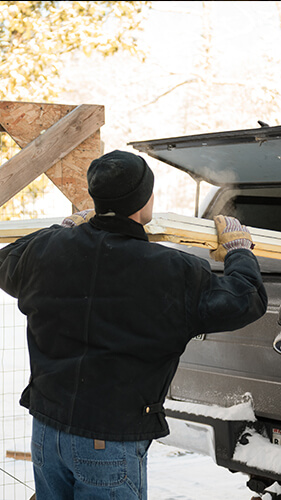 Your Older Home Can Be Made More Energy Efficient
RVI has been helping homeowners in Northern Wisconsin achieve this peace of mind for over 20 years. Our whole house air sealing services and state-of-the-art BIBS® insulation technology are based on the principles of building science and are proven to increase the energy efficiency of existing homes to levels that are comparable to and, in many cases, even better than those of newly constructed homes.
Our technicians are expert insulators and Wisconsin home improvement specialists who are dedicated to using the latest advances in building science and house sealing technologies to bring comfort to homes of any size, shape, and age.
Beginning with a Home Energy Assessment, we examine
areas of heat loss and gain to identify insulation and air sealing needs. From there,
we develop custom solutions that provide
the greatest return on investment
while also:
Increasing energy efficiency & reducing
utility bills
Eliminating drafts, moisture intrusion,
& ice dams
Improving the overall operation of
any home
Enhancing home comfort, indoor air quality & performance
Delivering
100%
Satisfaction Guarantee
Attention to detail, professionalism, and dedication
I have recommended Sam Hartmann and his business, R Value Insulators, to several other homeowners. The WI Focus on Energy program introduced me to R Value Insulators. The experience has been a positive one due to the attention to detail, professionalism, and dedication to home comfort combined with air quality, based on science.
My home is a healthier residence since the evaluations, and I greatly appreciate the personalized service.
// Shawn Pflugardt
We are so thankful we turned to RVI for our Home Energy Assessment!
While preparing for a new addition to our family, we were worried that we may have needed to purchase new windows for our home. A large, costly project was not something we were planning on before a baby arrived! Fortunately, we had our home assessed and they were able to show us that there were much smaller projects we could do to improve our homes' energy use.
RVI met with us quickly and helped us come up with a game plan for the most effective projects we could tackle. We even learned that the windows were not in need of necessary replacement! They also connected us with the people we needed in order to make the recommended updates to our home. The test helped us feel more confident in our home efficiency. We highly recommend turning to RVI for your home needs! 
// Jenny & Eric Prom
The area's top building contractors recommend RVI
When we decided we wanted to improve the insulation of our home, we asked the area's top building contractors who they recommended and it was RVI. They provided us a quote and scheduled our job, then completed the project, professionally and efficiently. The results were amazing. We are seeing a 40% improvement in our heating costs in our house and detached workshop in a winter that was colder than the previous year! Need I say more?
// Mark Cobb
Improve Your Home's Energy Efficiency and Comfort With Help From RVI
Many homeowners think that they don't have any options to improve the energy efficiency of their older existing homes, but that is not true. RVI can help you improve your home's overall performance for increased comfort, reduced energy costs, and easier operation. 
Learn how to make your house more energy efficient by contacting RVI today or explore our website to learn more about our services and technology.