Existing Home Air Sealing and Insulation
in Northern Wisconsin
RVI makes homes more comfortable and energy efficient using proven building science research and technologies. Our air sealing and insulation solutions solve common problems on existing homes like ice dams, moisture intrusion, drafts, and high heating bills.
The RVI Process
At RVI, we believe that the right solution to every project begins with identifying and understanding the customer's needs and ends with delivering professional results – every time.
Our comprehensive process is rooted in the latest building science best practices and is supported by our dedicated team of professionals to deliver Wisconsin homes that operate at maximum home energy efficiency, realize annual energy cost savings, and keep residents comfortable year round.
RVI is proud to be a Focus on Energy trade ally. Home energy assessments performed by RVI may qualify homeowners for financial incentives from Focus on Energy. Available incentives cover assessment cost and provide funding for additional work.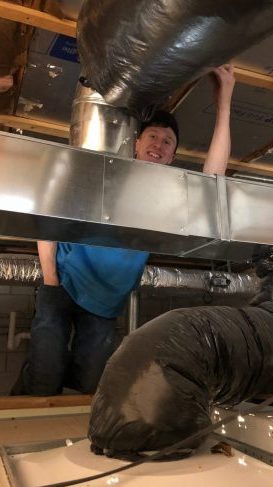 Home Energy Assessment

Customized Recommendations

Insulation Removal

Air Seal
Insulation

Ventilation

Rim Joist Seal and Insulation

Post Testing
Frequently Asked Questions about our Air Sealing and insulation services:
Will you add to or top off my existing insulation?
Possibly. We require a Home Energy Assessment first to determine your needs.
Do you give free estimates?
We require a Home Energy Assessment first. Once that's complete we will schedule a meeting with you to go over the test, look at the job, and give you a free estimate.
Why do I need a Home Energy Assessment?
The Home Energy Assessment is similar to diagnostic testing for your car. It allows us to gain a clear understanding of what the underlying issue is so that we can recommend the best solution for the problem.
What tests are included in the Home Energy Assessment?
The Home Energy Assessment consists of
Blower Door Test

Combustion Safety Test

Exhaust Ventilation Test

Infrared Camera Scan
Attention to detail, professionalism, and dedication
I have recommended Sam Hartmann and his business, R Value Insulators, to several other homeowners. The WI Focus on Energy program introduced me to R Value Insulators. The experience has been a positive one due to the attention to detail, professionalism, and dedication to home comfort combined with air quality, based on science. My home is a healthier residence since the evaluations, and I greatly appreciate the personalized service.
// Shawn Pflugardt
We are so thankful we turned to RVI
We are so thankful we turned to RVI for our Home Energy Assessment! While preparing for a new addition to our family, we were worried that we may have needed to purchase new windows for our home. A large, costly project was not something we were planning on before a baby arrived! Fortunately, we had our home assessed and they were able to show us that there were much smaller projects we could do to improve our homes' energy use. RVI met with us quickly and helped us come up with a game plan for the most effective projects we could tackle. We even learned that the windows were not in need of necessary replacement! They also connected us with the people we needed in order to make the recommended updates to our home. The test helped us feel more confident in our home efficiency. We highly recommend turning to RVI for your home needs!
// Jenny & Eric Prom
The area's top building contractors recommend RVI
When we decided we wanted to improve the insulation of our home, we asked the area's top building contractors who they recommended and it was RVI. They provided us a quote and scheduled our job, then completed the project, professionally and efficiently. The results were amazing. We are seeing a 40% improvement in our heating costs in our house and detached workshop in a winter that was colder than the previous year! Need I say more?
// Mark Cobb