CRAWL SPACE ENCAPSULATION
Let RVI help you to address the main threats to your crawl space; outside air, excess moisture, water, mold, and pests. Providing you with a more comfortable, energy efficient home with improved air quality.
The RVI Process:
Remove debris
Grade floor
100% coverage of the ground with a vapor barrier
Seams and penetrations of vapor barrier seal
Air seal and insulate foundation walls and rim joist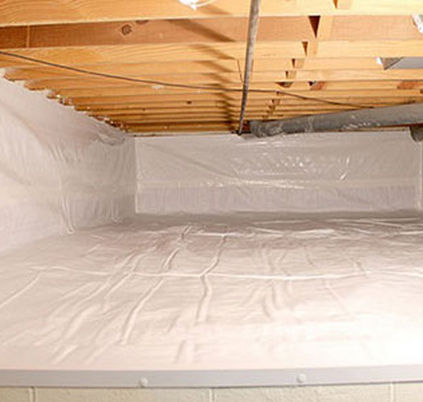 CRAWL SPACE BUILDING SCIENCE
 The overall objective of crawl space encapsulation is to turn an uncontrolled environment into a controlled environment. Or… to keep the moisture out. Recent advances in building science have proven definitively that unsealed crawl spaces lead to mold and structural issues, as well as air-quality problems and pests.
BENEFITS
RVI Crawl Space Encapsulation Delivers: 
Better air quality in the crawl space translates to cleaner, healthier air in your living space

Greater energy efficiency – some studies indicate a 20% reduction in energy costs with a crawl space encapsulation.

Fewer critter problems

Greater durability of floor, HVAC equipment, and other components housed in the crawl space

Greater comfort in the home due to temperature balance
 RVI transformed an uninhabitable crawl space…
"Sam and his crew did a terrific job of cleaning out 45 years of debris from our "rathole" of a crawlspace and turning it into what I now refer to as our "surgical suite". The space is now totally dry, level, insulated and sealed. We could eat off the new plastic floor which covers our old sand base. I now even look forward to going down into what I used to refer as my personal pit from hell. It's totally dry, clean and habitable. Sam even said that he would take care of any problems that might arise for the indefinite future. I would recommend these folks to everybody. Thanks from a totally satisfied homeowner."
Jeff Archibald 
RVI stayed within the original quote…
Sam did a good job for us. He stayed within the original quote, which we appreciated! He completed the work as he said in the timeline he gave us. And most of all even though our work is "under the cabin and out of sight" Doug and I feel the cabin is dryer and more comfortable! We also appreciated the finished pictures he sent and his communication with us was very helpful as we live nearly 7 hours away from the cabin!
Deanne Lange