Home Energy Efficiency
Consultant Services
RVI offers energy-efficient home consulting services to builders and homeowners who want to understand how a home uses energy and identify areas that could benefit from energy efficiency improvements. We also work with builders and homeowners who are in the early planning stages of a project to ensure their new home is designed for maximum energy efficiency.
During a home energy audit, RVI's trained home energy raters inspect and evaluate the home's energy features and make recommendations for improvements that will reduce energy usage and save the homeowner money.
Our home energy efficiency consultant services are available to builders during the planning stages of the home construction process as well. We work with builders to model out the energy usage of home plans before construction begins to ensure builders are building the most energy-efficient home possible.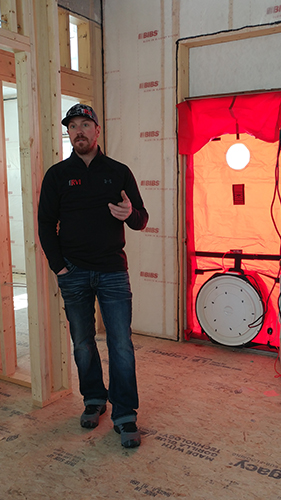 Frequently Asked Questions ABOUT OUR
HOME EFFICIENCY SERVICES
Is This Service Available for New Homes or for Existing Homes?
Both. Our energy efficiency consulting services and home energy audits are available for both new and existing homes. We can conduct the audit during the planning and construction stages of a new home or after the home is built.
How Do I Get Started?
Use the form below to contact RVI and speak with a home energy efficiency consultant.